BT2.0 450mAh 1S 30C Battery (4 sztuki)
130,00 zł z VAT
4 w magazynie
Opis
CENA DOTYCZY CAŁEGO KOMPLETU (4 sztuki)!
BT2.0 Connector – the most significant revolution in 1S Whoop Drone.
Note: BT2.0 450mAh 1S 30C Battery is upgraded and optimized to battery length 1.7mm longer and battery port shell width 1mm narrow than the previous one. It is normal to use if the battery cell is visible. Because the battery sticker does not fully cover it. We will change the new battery sticker as soon as possible.
Not sure if it's worth switching to BT2.0? Check more from Joshua Bardwell'video- Proof that the BT2.0 connector is better than PH 2.0
Since February 2019, we've got some feedback on Facebook about how eager they need the high quality of solid pins connector on 1S whoop drone. So we started our long-term investigation on the design of the solid pins and the stable manufacturing technique to meet pilots' demand. BETAFPV always keeps moving forward with a passion for breakthrough experiences.
After BT2.0 300mAh 1S battery, BT2.0 450mAh 1S battery is following close at its heels. As the first 450mAh 1S battery with a BT2.0 connector in the current market, it has an exclusive designed BT2.0 connector, which has broken through the bottle-neck of the PH2.0 crappy crimped pins. What's more, it is highly recommended for Emax Tinyhawk, which achieved dynamic balance, longer flight time, and better performance, just need to simply modify its connector to BT2.0 connector.
BULLET POINT
BT2.0 connector decreased internal resistance of connector effectively by upgrading the crimped pins to 1.0mm banana connector and increasing the cross-sectional area of 1.0mm banana connector.
By solving the problem of voltage sag, the discharge of the 450mAh 1S BT2.0 lipo becomes more efficient. Pilots can enjoy more flight time without disturbance of low voltage warning.
BT2.0 450mAh 1S 30C Battery has stable current/voltage output and high efficiency. All 1S brushless drones will gain powerful and perfect performance with this BT2.0 450mAh 1S battery.
It is perfectly suitable for Emax Tinyhawk, it can provide stable and consistent power, which achieved dynamic balance and longer flight time. Just need to simply modify the PH2.0 connector to the BT2.0 connector.
Compared with the PH2.0 crimped pins, the BT2.0 connector is more durable which can discharge more currents in the same capacity and provide far more power.
High-end technology to guarantee high quality and consistent performance.
We released the BT2.0-PH2.0 adapter cable, which is convenient to charge BT2.0 battery with a stock PH2.0 charger. Meanwhile, we also release BT2.0 all-in-one battery Tester & charger for your need.
SPECIFICATION
Item: 1S battery
Capacity: 450mAh
Rate: 30C/60C
Voltage: 4.35V
Dimension: 61*15*7.5mm
Connector: Betafpv BT2.0 connector
Weight: 12.7g(1pcs)
BT2.0 CONNECTOR
There is a graph of comparison between BT2.0 connector 1S 450mAh battery and Emax 1S 450mAh battery. The discharge current is 11A in this testing. You could see that it has a much longer time and improvement in voltage sag with BT2.0 connector, which brings better flight performance.
Much more choices of BT2.0 series accessories.  
We know some pilots might have a question about how to deal with the old PH2.0 1S battery. So we provide some accessories like BT2.0 Power whoop connectors for those people who wanna convert the PH2.0 connector to BT2.0 connector.
BT2.0 Connectors (10pcs)
BT2.0 1S Whoop Cable Pigtail
BT2.0-PH2.0 Adapter Cable
Highly recommend the below products with BT2.0 connectors or cables. BETAFPV will collaborate closely with more brand manufacturers in the future, in order to bring better service and experience to customers.
BT2.0 450mAh 1S Battery
BT2.0 300mAh 1S Battery
BT2.0 Battery Charger and Voltage Tester
BT2.0 Series Quadcopters
6 Ports 1S Battery Charger & Adapter
Other Brand Chargers & Batteries with BT2.0 port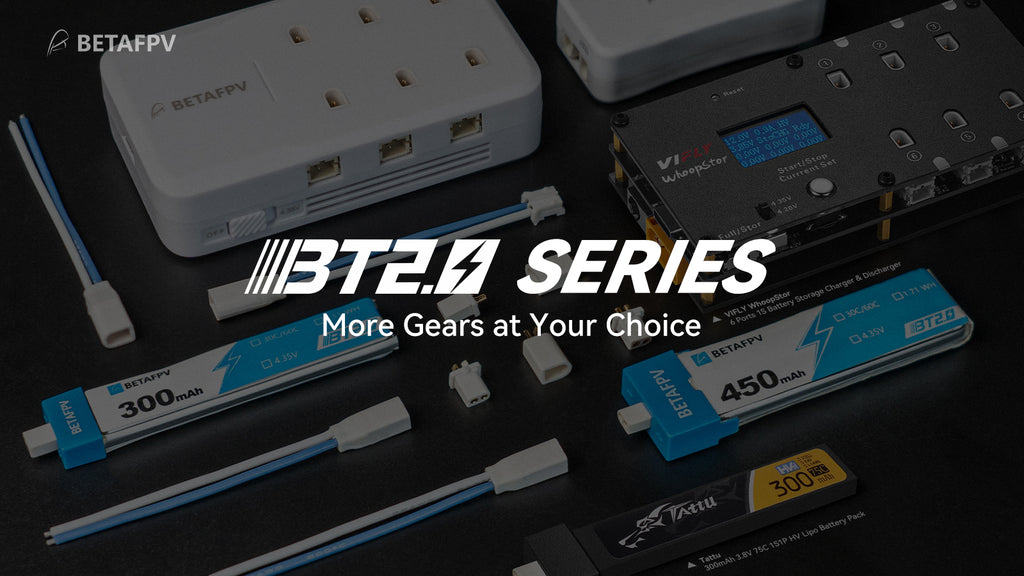 Here is a Betafpv Lab video to show you the best way of replacing BT2.0 connectors.
PACKAGE
4 * BT2.0 450mAh 1S 30C Battery